Awards
Phoenix Award
Awarded by the South Lyon Chamber of Commerce
2016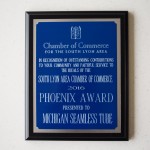 MST was recently granted the 2016 Phoenix Award by the Chamber of Commerce for the South Lyon area. This award is a symbol of the possibilities that exist in making a difference in promoting local commerce, recognizing an organization that has overcome diversity and has resurrected a landmark business in the community. Thanks to MST's community involvement and drive for continual improvement, the company is being honored this year.
Top Work Places
Awarded by The Detroit Free Press
2013
The Detroit Free Press newspaper recently named MST Seamless Tube & Pipe to its 2013 list of Top 100 Workplaces. Each year, the Top Workplaces are determined based solely on employee feedback, and our men and women of steel spoke clearly about the work. The employee survey used to determine the list measures qualities such as company leadership, communication, career opportunities, working environment, managerial skills, pay and benefits.
25+ Years of Service
Awarded by Ivanko Barbell Company
2013
The Ivanko Barbell Company has long been an innovator in the barbell industry and is committed to perfecting technologies to advance barbell equipment. MST has been a trusted supplier of seamless tubing to Ivanko for decades, and in 2013, the renowned barbell company recognized MST for its continuing contributions to Ivanko's products. This special award was presented to Ivanko suppliers who have provided 25 years or more of service to the company. MST is proud to be recognized for our ongoing contributions to the success of Ivanko.
Small Business of the Future Award
Awarded by Siemens Corporation
2009
Siemens Corporation turned to MST for help when The Martins Creek Power Plant in New Hope, Pennsylvania, needed to refurbish their outdated power plant to improve its energy and environmental efficiencies. Using approximately 800 tons of MST steel, the project was completed smoothly and in record time. The deal between MST and Siemens was presented in Fall 2008, signed in January 2009 and materials were produced and delivered in Summer 2010. This commitment to client and quality earned MST the Small Business of the Future -- Award for Supplier Excellence from Siemens. MST was presented this award at a dinner hosted by Siemens in 2009.
Perfect Performance Award
Awarded by Marmon/Keystone Perfect Performance
2012
Marmon/Keystone, an international distributor of pipe, tubing and specialty bars, gave only nine of their 100 vendors the award for Perfect Performance. It came as no surprise that MST was one of them. MST was recognized for excellence as industry leaders in pipe manufacturing. The award was presented at Marmon/Keystone's Annual Supplier Appreciation Day and recognized MST's dedication to quality product and on-time shipping performance.
Excellent Performance in Providing Outstanding Quality. Delivery. Service
Awarded by B&W Power Generation Group
2013
The Babcock & Wilcox Company has had a long relationship with MST. B & W is a leading, international provider of energy products and services, as well as a premier defense contractor. This award acknowledges the role that MST plays in helping B & W earn their reputation for delivering high-quality, dependable products and to providing on-time, reliable service again and again.
Vendor of the Year
Awarded by Chicago Tube & Iron
2004 (silver), 2005 (gold and silver), 2006 (silver), 2011 (silver), 2015 (silver)
Awarded to top performers in mechanical and boiler tube as well as other divisions. Based on quality, on time shipping performance, price, and volume.
Chicago Tube & Iron is one of the largest steel service centers in the United States, housing over 30,000 line items of inventory from some of the world's premier manufacturers. They awarded MST with their prestigious Vendor of the Year award, meaning MST is consistently a top performer in mechanical and boiler tube manufacturing, based on quality, on-time shipping performance, price and volume.
Best in Class Supplier Award
Awarded by FMC Technologies Inc.
2007/2008
For a century and a half, FMC Technologies has grown and diversified as a company thanks to innovation and high quality standards. When it needed materials to support its down-hole drilling operations, FMC turned to MST for quality pipe and tube products. This award led to a major partnership between the companies in 2009 that is still strong today.